Clean up for a crash on a northern California freeway turned deadly Saturday after a Tesla plowed into a fire truck that was shielding first responders who were working another accident.
The driver of the Tesla Model S was killed when the car hit the truck that was parked on Interstate 680 around 4 a.m., according to the Contra Costa County Fire Protection District. A passenger was also critically injured.
Assistant Chief Tracie Dutter said four firefighters who were in the ladder truck were treated for minor injuries.
Multiple photos posted on the agency's Facebook page showed the Tesla with a crushed front end and the $1.4 million truck preparing to be towed.
WIFE OF CALIFORNIA DOCTOR WHO DROVE FAMILY OFF CLIFF IN TESLA DOESN'T WANT HIM PROSECUTED: REPORTS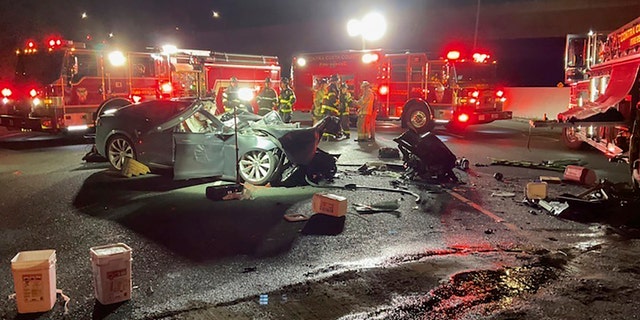 Dutter said the truck had its lights on and was parked diagonally in northbound lanes of the freeway to protect first responders who were working an earlier accident that did not result in any injuries.
California Highway Patrol Officer Adam Lane said it was not immediately known if the driver was intoxicated or if the Tesla was operating with automation or driving assistance features, according to The Associated Press.
CALIFORNIA TESLA DRIVER ARRESTED AFTER VIDEO CAPTURES ROAD RAGE ATTACK, AUTHORITIES SAY
The National Highway Traffic Safety Administration is actively investigating how Tesla's Autopilot system detects and responds to emergency vehicles parked on highways after at least 16 crashes involving parked police or fire vehicles.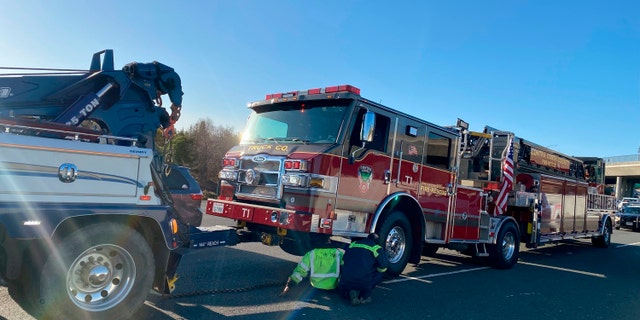 On Thursday, Tesla recalled nearly 363,000 vehicles because of potential flaws in "Full Self-Driving" mode. The recall included the 2016-2023 Model S and Model X vehicles, 2017-2023 Model 3, and 2020-2023 Model Y vehicles equipped with FSD Beta software or pending installation.
CLICK HERE TO GET THE FOX NEWS APP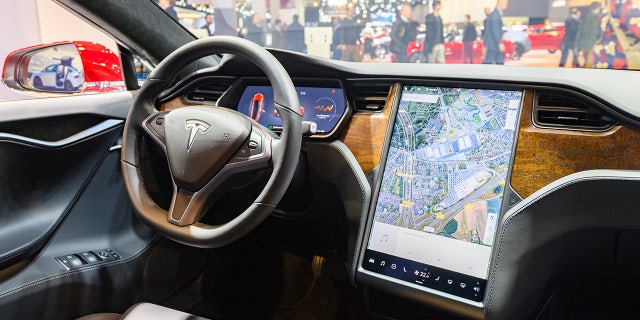 NHTSA said its "investigation into Tesla's Autopilot and associated vehicle systems remains open and active" despite the FSD recall.
The Associated Press contributed to this report.